Want to start a carpet cleaning business?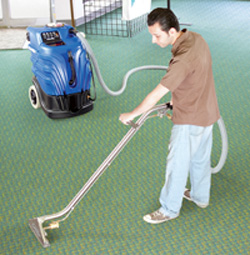 Since the 1960's carpets have routinely been installed in homes and commercial buildings creating a ready made market for the carpet and floor cleaning industry. Carpets need to be professionally cleaned on a regular basis to maintain their fresh and new look, extend the life expectancy and to keep them hygienic.
Without the correct training and equipment a lot can go wrong but with over 25 years experience in the cleaning service industry, Amtech UK have an excellent track record for new carpet and floor cleaning set ups.
At Amtech UK we will guide you through our range of professional carpet cleaning machines and business starter packages to find the best equipment that suits your business plan. Our business starter packages include all the equipment you will need to get started, including carpet wands, upholstery tools, and hoses.

We also provide advice on carpet cleaning chemicals, training on how to operate your carpet cleaning machine.
Q. What do I need to start a carpet cleaning business?
A. You will ideally need the equipment listed below to be a professional carpet cleaner:
If you would like to learn more about Amtech UK, our products and services, or if you need practical & free advice on all aspects of professional carpet & hard floor cleaning, please contact our team of dedicated experts on: 01444 232211 or email: sales@amtechuk.co.uk
NO SPARE CASH? BUY ON FINANCE


Buy your equipment from us on finance. Ask for details




MORE DETAILS

GREAT RATES
QUICK AND EASY
TAX EFFICIENT
---
What our customers are saying about us...
"Being new to the Carpet Cleaning Business, I found it really hard to find someone to help me choose the right machine for my needs until I spoke with Amtech UK. They took a massive weight off my shoulders and talked me through all the options available to me. They tailor-made a system that perfectly suited my requirements as well as giving me full training on cleaning carpet & upholstery. I would definitely recommend Amtech UK to all new starters."
Tom Walmsley,
Fresh & Clean
"I just wanted to say how delighted I am with our Powr-Flight carpet extractor and your training programme. You have totally transformed my cleaning business and hugely improved my productivity. Issues such as long drying times and browning are now the thing of the past."
Peter Blair,
MDS Hygiene Services
"We bought a Powr-Flite carpet cleaning machine from Amtech Uk and were totally amazed by the results. With our old machine it took anything up to 12 hours for the carpets to dry. Now, it takes less than 2 hours and on top of that our standards have improved by 40%. Our customers are much happier and I am getting many more recommendations."
Becky & Jay,
Twotwenty2