BarrierTech Cordless ULV Fogger
Catalogue code:FOG1
1 x FREE 5 Litre BarrirerTech Surface Sanitiser with every Fogger.
The BarrierTech ULV (ultra-low volume) cold fogger offers you ultimate performance in a small package.
The lightweight and compact design, cordless with integral rechargeable battery that can get a full charge within 3 hours and up to 32 minutes of continuous run time. Easy to fill 1200ml (40.4 fl oz.) reservoir complete with tight cap and a reservoir level window to monitor your liquid levels.
Features a 1 speed, 350W motor, and an adjustable nozzle producing average droplet size 5 to 50 microns
The BarrierTech fogging machine will handle all decontamination/treatment sites with ease. Ideal for full coverage for office, restaurants/food services, schools, hospitals, care homes, pet boarding, greenhouse, commercial properties, and more.
FEATURES:
ULV cold fogger features maximum coverage with minimal solution use
Ideal for commercial, food services, schools, hospitals, senior care facilities, pet boarding, and greenhouse
Powerful motor for maximum reach and adjustable nozzle for flow rate and droplet size adjustments
Easy to fill reservoir and reservoir level window helps monitor your liquid levels
Can be used to apply disinfectants, insecticides, biocides, deodorants, fungicides, repellents, surface sanitizers and more with point-and-spray ease
Lightweight, compact, and easy to use
Full charge within 3 hours and 32 minutes of continuous run time
Spray Distance: 25+ Ft.
Average Droplet Size: 5 to 50 micron
Tank Capacity: 1200ml (1.2 L) (40.4 fl oz.)
Flow Rate: 200 ml/min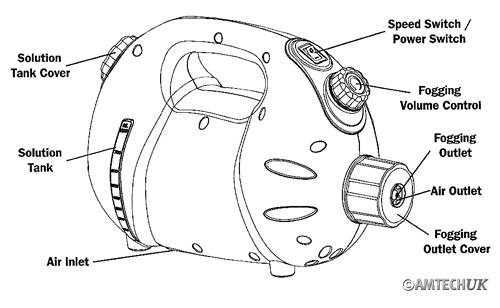 SPECIFICATIONS
| | |
| --- | --- |
| Charger Input Specification | 100-240 V~50/60Hz 1.5 A |
| Charger output Specification | DC 29.4 V / 2.0 A |
| Machine Output Power | 320 W |
| Solution Tank Capacity | 1200 ml |
| Battery Specification | Lithium Ion Battery 135 Wh |
| Charging Duration | Max 3 hour |
| Charger Cord Length | 120 cm |
| Housing | PP |
| Dimensions | L 37.1cm x W 17.2cm x H 21.0cm |
| Weight | 2.6kg |
| Meets European CE Standards | Yes |
VIDEOS
BarrierTech Fogging Machine